Surfcamp Portugal
Neat accommodations, relaxed people, good vibes, surfing & skating:
The DROP IN is your surf camp in Portugal for beginners, advanced and experienced surfers.
Your surf vacation in the
Drop In Surf Camp
The very special surf camp on the silver coast of Portugal.
At DROP IN Surfcamp Portugal you will experience a surf vacation of a special kind. Our surf camp on Portugal's Atlantic coast is aimed at all those who want to spend their vacation in a family atmosphere and learn surfing in small groups. But also experienced surfers will find like-minded people and the best surf spots in Europe on our doorstep!
Whether you are traveling alone, as a couple or with your friends, a cool surf vacation in Portugal awaits you – and an unforgettable time.
And for those who like it more private, for families or for those who want to make home office by the sea, we offer besides our camp houses also cozy beach apartments!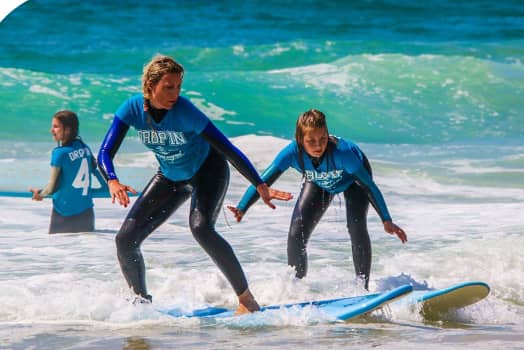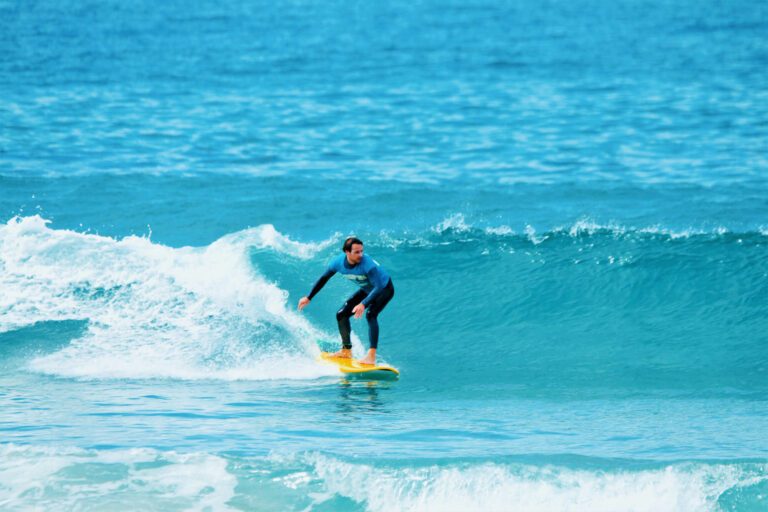 Off to Portugal
What awaits you at surf camp Portugal
Since 2008 we have been bringing surfing closer to you in Portugal - as a sport and as a lifestyle. The Drop In now consists of four houses. Each house has an individual character, so there is something for everyone. Young people who love sports, singles or couples, families, beginners, surfcracks or even non-surfers who want to spend their vacations in a relaxed atmosphere - it doesn't matter, everyone feels comfortable with us...

The core of your vacation is our team. Always concerned about your well-being and fully integrated into the vacation experience, our house leaders, teammates and surf instructors will make sure you have an unforgettable vacation. Come as a Guest & leave as a Friend!
For the perfect surf vacation in Portugal we offer you:
Surf lessons & surfing at the best spots in Europe with certified surf instructors
Accommodation in comfortable rooms or apartments in a family atmosphere and with personal attention
Breakfast in the camp houses Resort, Beachlodge or Beachhouse, self-catering in the apartments
Many specials in the houses: swimming pool, beach volleyball, miniramp & skatebowl, table tennis, foosball…
Many activities besides surfing, such as yoga, karting, trips to Nazaré, Lisbon…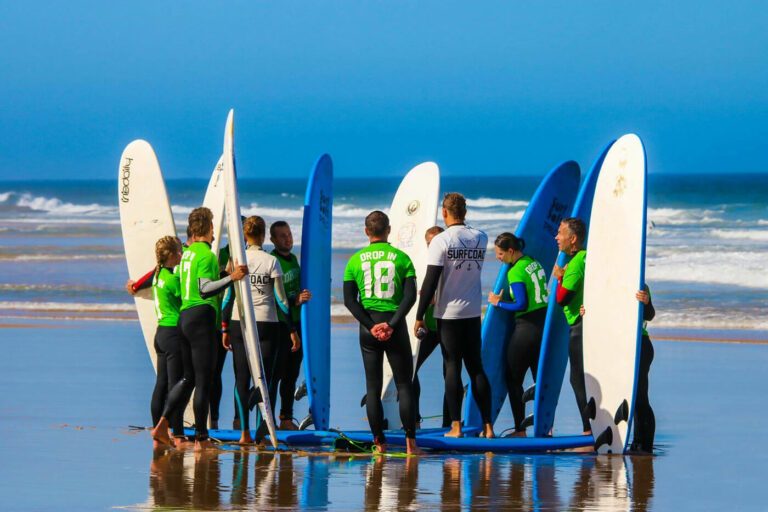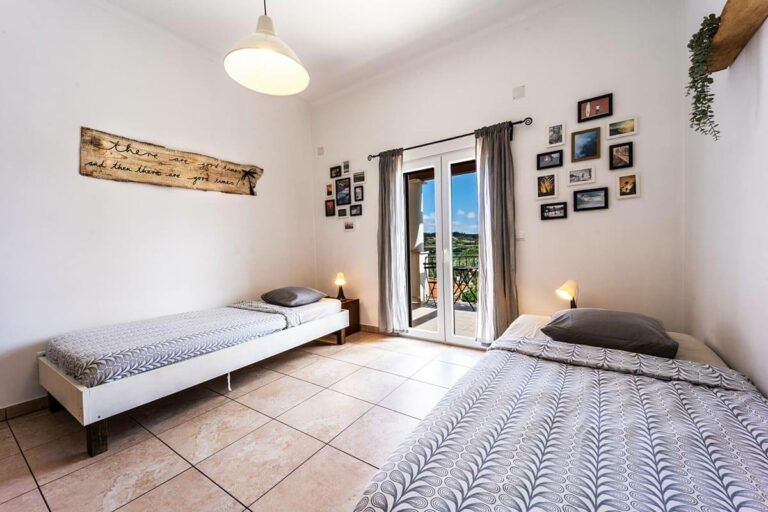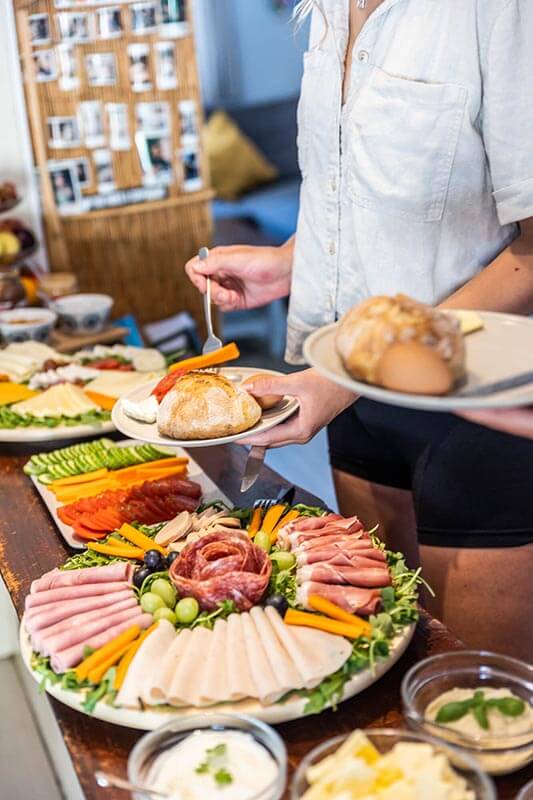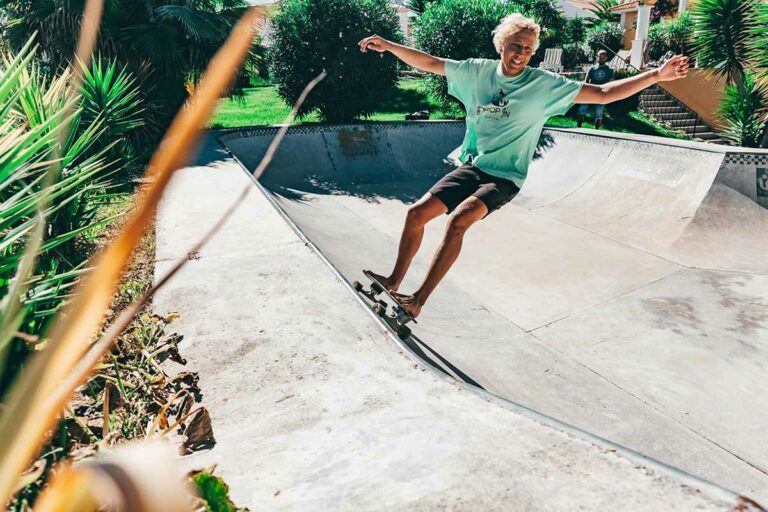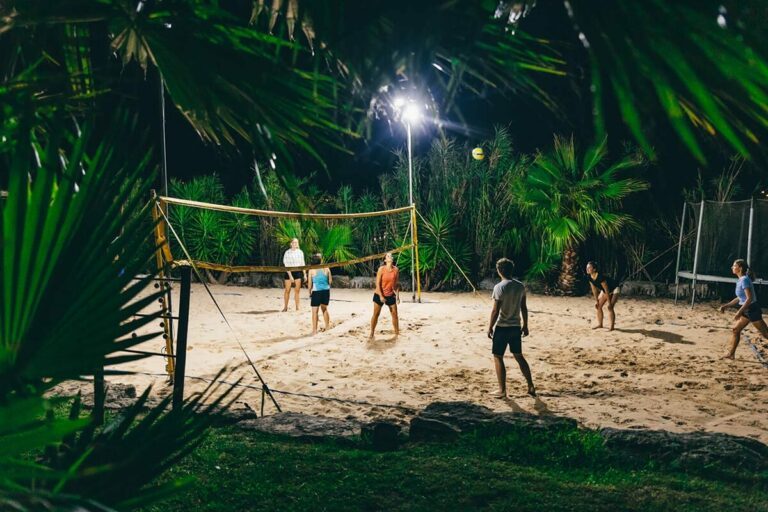 Our accommodations
The Camphouses & Beachapartments
You are in the mood for social surf camp life & action? Then you are right in our camp houses. If you like it a bit quieter on vacation, our beach apartments are at your disposal.
You can choose between three camp houses: the Resort in Lourinhã and the Beachlodge and Beachhouse, the two locations near our house beach Praia do Areal. Each house accommodates a maximum of 16 to 20 people, so you can spend your vacation in a personal and family atmosphere.
The DROP IN Surfcamp is a big surfer commune. The teammates and surf instructors live with you under one roof and take care of your well-being so that you have a great surf vacation with us in Portugal!
In our apartment house at Praia do Areal you can make yourself comfortable in your own apartment or hang out in the common outdoor area with the other guests and spend chilling barbecue evenings.
Your perfect surf vacation in Portugal
What makes our surf camp and surfing in Portugal so special?
Year-round, surfers from all over the world flock to Portugal's Atlantic coast for the best waves, dramatic coastlines and beautiful cities like Lisbon. But what exactly sets us and Portugal apart from other surf destinations? We will now quickly tell you why you should book your surf vacation with us at Drop In Surfcamp Portugal:
Our concept: We attach great importance to personal care and quality! That's why our accommodations and surf lessons are small and well organized, so that no one feels neglected. Our teammates and surf instructors live with you, so you always have a contact person on site in case there are any questions.
The waves: All year round is surf season in Portugal. There are always waves that are considered beginner-friendly, especially in the summer, while in the winter they get bigger and advanced surfers also get their money's worth.
The food: Portugal has a very special cuisine. Enjoy delicious BBQs and fresh fish with us at Drop In Surfcamp.
Getting there: The Drop In Surfcamp is super easy to reach. By plane you are only 2-3 hours away. If you want to spare the climate and have more time, you can also reach Portugal for your surf vacation via car or train.
The surroundings: You need a break from surfing, the weather doesn't play along or you just want to discover Portugal? No problem, with us in the surrounding area there are countless excursion possibilities and sights. Enjoy cities like Lisbon, Nazaré or Óbidos or the Buddha and Dino Parque of Lourinhã. We will be happy to help you.

The whole year is season
Surfing at Drop In Surfcamp Portugal
for beginners, advanced and professionals
Gently rolling out waves, thick barrels or easy spots with super peaks – it's always a good idea to spend your surf vacation in Portugal. Because the country on the west coast of Europe is one of the best surf destinations on the continent. Here at the Atlantic Ocean you will find wonderful and suitable surf spots for every surf level. Whether beginner, advanced, professional – here everyone finds his spot that makes the surfer's heart beat faster.
Portugal is a paradise for surfing: The wind over the Atlantic ensures that, in principle, one wave after another rolls towards the coast all year round.
It is therefore possible to surf wonderfully all year round. If you want to learn surfing on vacation, the best conditions are from April to October. It is warm, the wind often blows offshore, the waves are rather gentle.
Experienced surfers will of course find challenging spots all year round – but especially in the fall and winter months the Atlantic attracts with powerful swells. Cracks should schedule their surf vacation in Portugal at this time of year – that's when the coasts really get busy.
The best place to surf!
Why learn to surf at Drop In?
Our coast: Costa de Prata
The DROP IN surf camp is located in the best place in Portugal to surf: the "Costa de Prata" – the Silver Coast. Situated only 70 kilometers north of Lisbon, fantastic surfing conditions await you here with us: Wide, partly untouched sandy beaches, surf spots with reef and beach breaks, left and right breaking waves – you name it. In the immediate vicinity are unique surf spots, such as Supertubos, Nazaré or Peniche – Peniche, by the way, is the place where surfing was "invented" in Portugal, so to speak.
At the better known surf spots it can sometimes get quite crowded. Our house beach Praia do Areal, on the other hand, is one of the Secret Spots in Portugal. The line-up is much more relaxed, the waves are usually emptier than elsewhere. And since the waves run constantly and cleanly towards the beach, Praia do Areal is the perfect place to surf in a relaxed way on vacation. But of course, socializing and relaxing are also provided for. Our house beach offers enough space for sunbathing and in the beach bar you can enjoy the sunset with a cool beer or cocktail.
With us you get safely on the board!
Surfing is not just a sport. Surfing is lifestyle and pure life. Freedom, fascination and that special feeling when you've really catched the wave. And the best part is that anyone can learn to surf. All you need is simply a good surf instructor and a bit of will and desire to surf. And our trained and experienced surf coaches will show you how it's done. Enjoy your vacation – anyone can learn to surf!
In our surf course you will not only learn to surf
In our surf courses in Portugal you will learn not only surfing but also many other things you need to know about surfing, e.g. which boards there are and what materials they are made of. 1 time a week we visit the Fatum board workshop so you can see how surfboards are made and what types of surfboards there are. And of course, in the theory lessons you will also learn at which places and times you will find the best surfing conditions.
But surfing is not easy: How long you really need to learn surfing is not easy to say. Some participants surf the first wave already on the first day, others need until the end of the course. But it's the fun that counts, and everyone gets their money's worth!
Where is the Drop In Surfcamp located?
Location & surroundings of our surf camp
The No. 1 surf camp in Portugal with well-kept accommodation with pool, professional surf courses, skatebowl & miniramp, volleyball and much more.
is located in Lourinhã (resort) and at Praia do Areal (beach lodge, beach house, beach apartments). Lourinhã, our house beach Praia do Areal as well as the beach resort Praia da Areia Branca are within walking or cycling distance from all accommodations.
Lourinhã is a charming small town with typical Portuguese flair, located about three kilometers behind the coast. The pedestrian zone is ideal for a leisurely stroll or a stop at a restaurant. The traditional fishing village Praia da Areia Branca – translated: "white sandy beach" – is located directly at the sea and is within walking distance from the Beachlodge, Beachhouse and Beach Apartments. Along the beach promenade you will find plenty of bars where you can party until the wee hours of the morning – if you want, this is also part of a surfing vacation in Portugal.
In the surrounding area there are also countless opportunities for excursions and sightseeing. Enjoy cities like Lisbon, Nazaré and Óbidos or the Buddha and Dino Parque of Lourinhã. We will be happy to help you.
If you need a break from surfing or want to use your vacation for other activities, DROP IN Surfcamp Portugal is the right place for you!
Still more
General info about Portugal