Book surf camp:
Enjoy the time out from everyday life in the DROP IN
Come by!
Why learn to surf in Portugal?
At DROP IN we offer everything that makes a cool vacation!
Surfing at the best spots in Europe and parties at the most beautiful beaches of the Atlantic coast, the atmosphere of a chill surfer flat-share and lots of action on the board – that's what DROP IN stands for.
Since 2008 we have been teaching beginners how to surf and showing advanced surfers the best tips & tricks at our surf school in Portugal. With us you have the choice between four locations: the Resort, the Beachlodge, the Beachhouse and for those who love more quiet the Beachapartments.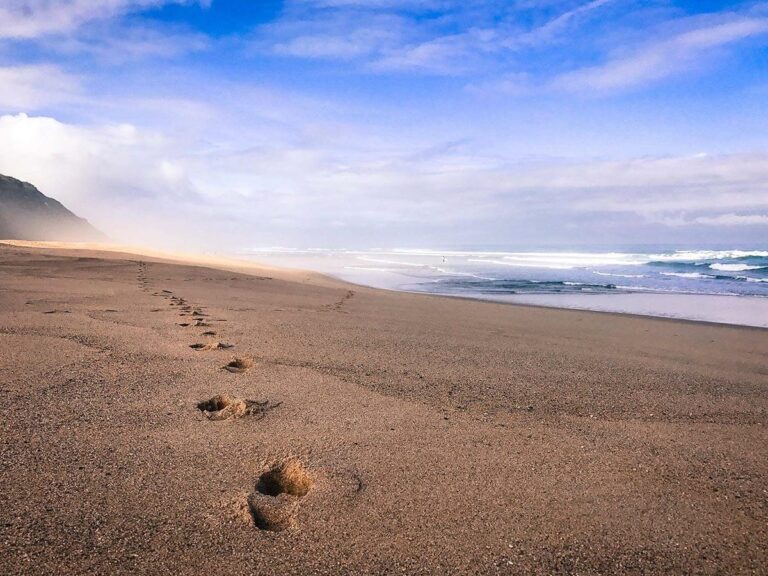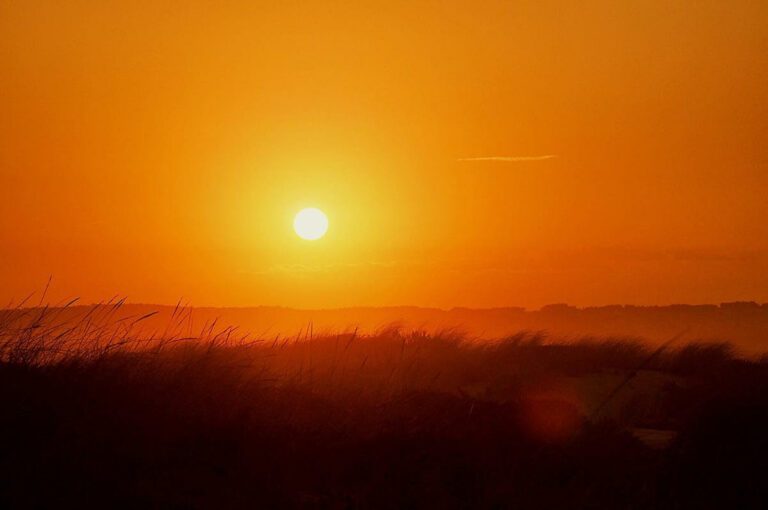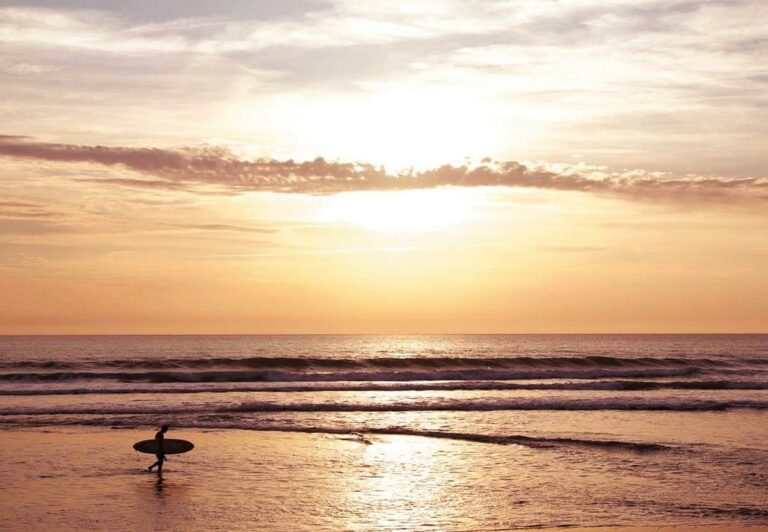 Surf Vacation Booking:
What awaits you in the Drop In

Every morning we start in our camp houses with a big breakfast buffet for a great start into the surf day. In the evening you will cook and eat with your group in the houses, for this purpose there is a communal kitchen in each location. You don't feel like cooking? No problem. In each house there is a grill for a chill BBQ evening. And in the immediate vicinity you will find many good and inexpensive restaurants.
In our Beachapartments you cater for yourselves completely.
Arrival & departure in the camp houses of the DROP IN is usually on Saturday. Depending on the workload, exceptions may be possible – if you want to book a different day for arrival and departure at the surf camp, just contact us. Saturday evening there will be a Welcome-BBQ, so you can get to know the whole group and our team right away.
There is a common room in all accommodations. Here you will find a TV, games and a computer with free internet access. WLAN also costs nothing extra, of course.
Our heart
The resort
Open from May to October.
The resort is the center of our surf camp. If you want to book a place here, two houses and a bungalow are open to you. In total there are 7 bright and modern rooms (double bed, 2-bed and 4-bed rooms). In addition, there are 3 bathrooms and a shared kitchen. In the lounge you can always meet other surfers to exchange experiences, play darts or gamble on the foosball table.
The garden around the resort offers you enough space for sports and action on land: beach volleyball (with floodlight!), miniramp for skaters, table tennis table, slackline and a large trampoline. If you just want to chill, you can make yourself comfortable on a lounger or in a hammock. Or you can find your center with yoga on the large terrace.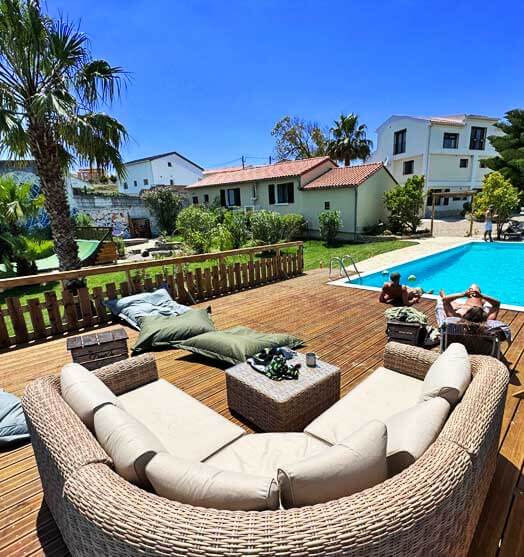 Our gem
The Beach Lodge
Open all year round.
Our beach lodge is located only 3 minutes walk from the beach and our surf station at Praia do Areal. Up to 20 people can spend an unforgettable surfing vacation here. Double bed, 2-bed and 4-bed rooms are available for booking. There are 5 bathrooms in total. An open kitchen and a large common room with a fireplace create a home-like atmosphere.
Relaxing away from surfing is also taken care of: a large garden, a great pool, a skatebowl, a beach volleyball court, a foosball table, and deck chairs and hammocks to really unwind.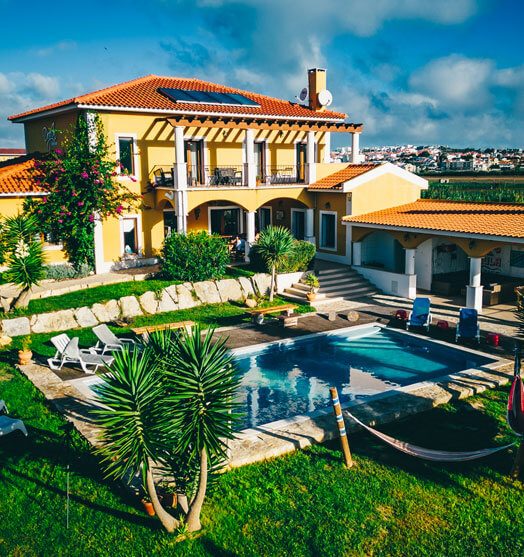 Our modern classic
The Beachhouse
Open from April to October.
Our Beachhouse is also located in the immediate vicinity of Praia do Areal. In 2 minutes you are on the beach and in the waves. The Beachhouse has several 4-bed rooms with 2 bathrooms. Here you can expect a large common room with fireplace and an open kitchen, a cozy pool area and a BBQ corner.
For variety and entertainment away from surfing is provided with darts, foosball table and ping pong table. You can relax in the relaxation areas with hammocks and deck chairs.
For everything that love it more private
The Beachapartments
Open all year round.
Our beachapartmenthouse is located only a few minutes walk from the beach "Praia do Areal".
The house has seven independent apartments, all of which have their own balcony or terrace.
There is also a large communal outdoor area with pool, BBQ area and garden that can be shared by all residents.
In our apartment house you can either enjoy your peace and quiet or review the day with the other residents over a beer in the evening.
Anyone can learn to surf!
Book activities around surf camp
The surf spots in the area are ideal for learning to surf. During your stay at the surf camp you can book a 5-day surf course to learn the basics of surfing (beginner course) or to improve your own technique (advanced course). Participation in a course is not a must – you can also just book a surf vacation at DROP IN and rent the surf equipment from us. Several times a day we offer free shuttle buses to the beaches in the area. You can also borrow bicycles from us free of charge.
If you want more than surfing, you can book other offers with us that will make your surfing vacation a unique experience beyond surfing: for example yoga, massage, paragliding or horseback riding on the beach. For those of you interested in culture and the city, we also regularly offer a Lisbon trip. All excursions can be booked on site at the surf camp.